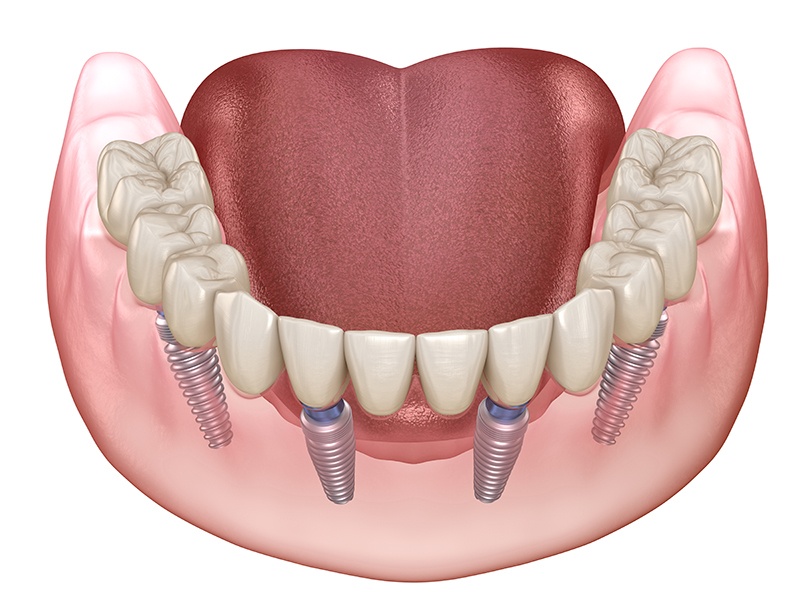 If you would like a stable, lasting restoration for multiple missing teeth, Dr. Amechi Echetebu may recommend All-on-4® implants in Germantown, Tennessee, and surrounding areas, including East Memphis, Eads, Cordova, Bartlett and Covington. All-on-4 implants are very similar to traditional dentures but are anchored by four dental implants per arch. Presthesis wearers often find that their dentures become loose and slide around the mouth. This can make it difficult to eat and speak properly. All-on-4 implants can provide the stability and comfort that you are looking for. With an All-on-4 implants, your food tastes better, there is less bulkiness than a conventional denture and this option does not come in and out.
When you come into our office for a consultation, our dentist will discuss your goals and examine your smile to determine if you are a candidate for All-on-4 implants. Additional services, like gum disease treatment, may be required before implants can be placed.
Any remaining teeth that are failing will be removed in preparation for All-on-4. Then, four dental implant posts will be surgically placed per arch. Two straight implants are placed in the front of the arch, and two tilted implants are placed in the back. These implants will serve as anchors for your upcoming denture. Each arch of replacement teeth will be custom created for your smile. The palate at the top of your mouth will not be covered by the restoration. They will then be permanently attached to the dental implants.
Your All-on-4 implants will be designed to look natural and fit securely and comfortably. We invite you to contact River City Dental & Implant Center at 901-755-6440 today to learn more and set a consultation.